WRC – T. Neuville: "The difference was a set-up change on Friday midday"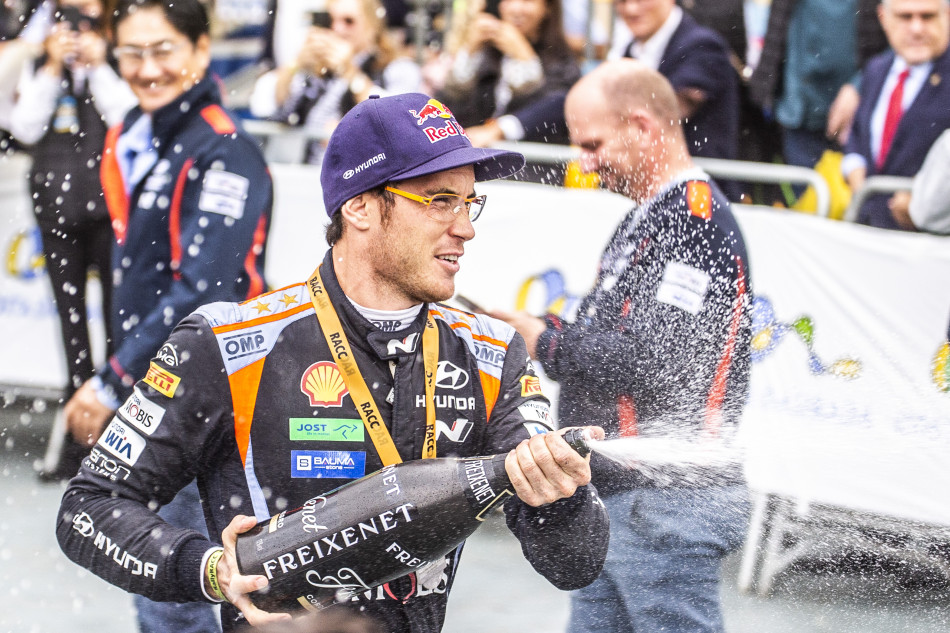 FIA WORLD RALLY CHAMPIONSHIP
Present:
1st – Thierry Neuville (BEL), Hyundai Shell Mobis WRT
2nd – Elfyn Evans (GBR), Toyota Gazoo Racing WRT
3rd – Dani Sordo (ESP), Hyundai Shell Mobis WRT
Winning manufacturer – Andrea Adamo (ITA), Team Principal, Hyundai Shell Mobis WRT
Q:
Thierry, congratulations on your second victory here in Spain. You showed fantastic pace on this event. The first three stages were not so good and then you found the answer?
TN:
The difference was a set-up change on Friday midday. My engineer pushed me a bit more for a radical change. It was a good decision and the car felt better immediately and I was able to decrease the under steer that had been dominant in the morning loop. After that I felt quite comfortable and we had a good clean run and no mistakes. That brought us at the end the victory.
Q:
You won almost every stage on Saturday. Were there any hot moments out there?
TN:
Not really, just a few small slides. I feel more confident when the car slides from the rear. It was mainly all in control. When things are going well and you feel comfortable there is not a lot that can stop you.
Q:
You had a very late scare today. What actually happened?
TN:
Literally the car was on fire. We were making some flames but it is a problem that we have face several times this season and it is not solved yet. Sometimes the car just refused to start. With a bit of luck at some point it is going to start again or not. Then, the only way is to push the car. Luckily, this time, we were not far from the regroup and Martijn and myself were able to push it into regroup and we got help from the marshals. There were enough of them to help us and give us the support and it started and fired up immediately. We knew there was rain two or three kilometers before the start of the Power Stage and aquaplaning everywhere. We did not know what the conditions were towards the end of the stage. We knew the first part was dry so I said to myself to go in a good rhythm until it starts to get damp and then wet. The feeling was still good and it dried up and I carried on without taking any risk and just having a clean smooth run.
Q:
You took the win in Ieper. Do you think why could this not have happened all season?
TN:
We have seven podiums in 11 events. There was only one where we didn't score points and I made a mistake. We had some technical issues in Kenya and cost us a lot of points and also gave maximum points to Sébastien. At that point it was a switch of 60 points. It was a decisive moment in the championship and we struggle with power steering in Greece. At the end, important points we have lost. We carry on pushing as a team and we give it everything in the car. Martijn did a marvelous this weekend and also my gravel crew, they were excellent. 
Q:
Elfyn, second position and you keep the title fight alive down to Monza. You showed a  brilliant pace on Friday morning. Then it seemed to ebb away. Why was that?
EE:
I think the clear change was the condition of the road to be honest. The first pass, the road was very clean and we were able to use a bit of a racing car and get a good feeling. Unfortunately, in the afternoon, when we had more gravel I struggled to feel comfortable in the car and we had a big moment in the middle of the stage that was quite costly in terms of confidence. Then we were trying to work a way around the problems we had during Friday afternoon to make the car better. We made some small improvements but it ended up costing us the balance in the car which brought some under steer. I really struggled to feel comfortable then. It has been a frustrating weekend from my side. 
Q:
The title fight goes down to the final round in Italy. What are your thoughts on it?
EE:
We are still alive and it's a similar situation to last year with the shoe on the other foot. Anything can happen but we also know that Séb is a smart guy and it is going to take something pretty radical to overtake him. It's quite clear what we have to do. Seventeen points is a pretty big gap and we need to win and the Power Stage could be quite crucial. Ultimately it is going to take a mistake or an issue for Séb for us to be champions at the end.
Q:
Dani, third overall, a real push today and your first stage wins. What a Sunday you have had?
DS:
I was quite happy with the day. It was very tight all the weekend with Sébastien, one second, two seconds. Today I was just pushing and enjoying with the car. After the first stage we take a little bit of time and we were in front in the night. I thought we push a little bit more to keep him in the back and after that, I felt good.
Q:
Andrea Adamo, your team boss, apologised to you because many times he has had to kick you up the ass on a Sunday to catch the guys in front. You did it today?
DS:
I think we know Andrea. We know when he is crazy and when he is nice. Inside he is really nice.  Honestly he said no message this weekend. Only today he started to say go…go….go. He was quite calm. I missed a little bit of performance, like Thierry, on the first day. It was so different. Elfyn, on the first day, had great speed and was on another level.
Q:
How has the relationship been with co-driver Candido (Carrera)?
DS:
We are planning to change for the next race… He did an amazing job. In the night stage he was working very well. He was happy to do his first time and his first podium. Everything is working better and better. He put a lot of effort. It was very nice.
Q:
Andrea, what do you think of the result here with two Hyundais on podium and both drivers reaching their 50th podiums?
AA:
It was important to come home still in the fight. It is important to have the fighting spirit. It is a matter to have a team that is used to fighting until the end and believes that any possibility to fight in any kind of team. I saw this spirit in the last weeks. I did not want to put pressure on the team. They did not need me to have the cherry of the cake. I did not kick his ass today. To the end we tried. For sure, we can say ifs. But ifs are used by the losers and we are not losers. We find where we made a mistake and make sure it does not happen again. Monza will be the last race of this car.
Q:
How is the development of the new car going?
AA:
Yes, very well…
Questions from the floor
Tom Howard (GBR), Autosport UK 
Q:
A superb win but is this a bittersweet victory and better luck could have seen you in the title fight
TN:
I mean we could have won Kenya and not been on podium here. We take it rally-by rally. If, for some reason, it doesn't work on earlier events we cannot say if, if, if.  As long as I know I've dome the maximum it's important. There will always be someone with more luck in life. In the end we push as hard as we can. We have a target and we have a goal. We achieve it sometimes. At least we never give up.  
Q:
How do you reflect on the weekend? Should it have been seven points gained or more?
EE:
It should have been more to be honest. It is what it is. We know already some of the reasons why. Second is still a result and Thierry was very strong this weekend and we didn't have the speed to match him. We need to make sure we are better prepared for Monza and can fight for the win.
Q:
It was a perfect day today but what changed from Saturday?
DS:
Saturday, I was trying to do well. It was not a big difference from my side. The difference was so small with Ogier. He was in front. On Saturday, maybe a little bit more cuts and more slippery in some places. I did not have confidence in this condition but today the stage was more clean, more circuit race and was nice.
Q:
Andrea, what was your assessment this weekend of Nil Solans and Oliver Solberg?
AA:
Both did what we asked them to do. Nil has a knowledge of the roads and that helped him. He just had to know the car and enjoy and Oliver did what we asked him to do and to finish the rally and get experience because he has never done this rally before. He has a new co-driver. He did well. It has not been an easy season for him and to get confidence was important for him.
Jason Craig (GBR), Crash.net
Q:
Given the reliability issues that have affected Hyundai this season, is that an area you need to get right for the new Rally1 car?
TN:
Definitely,  to win a championship you need a reliable car and that was the strength of our car in the previous two seasons when we won the Manufacturers. We missed it this year. We have seen many times Hyundai retiring from the lead. There have been several reasons and sometimes there have been no reason and it happened. Like I mentioned, we put our heads up and we continue pushing. I resigned for three more years and I am convinced the new car is going to be the one to have.
Q:
Are you frustrated that Rally GB is not part of the WRC calendar?
EE:
Yes, is the answer. It's a massive loss for the calendar for one. No Rally GB is like a calendar with no Monte-Carlo or no Rally Finland. Maybe I am a bit biased because I come fro Wales. But, for me, it is one of the classics and a lot of drivers in enjoy it. Also for UK  motor sport in general having a home round of the WRC is really key for youngsters coming through and for the youngsters to spark an interest in the sport. It's a great shame. A lot of my competitors have had a home round and have been close to or have won it. Thierry was so strong in Ieper. I would have linked to think we could have been so strong in Wales.
Andreas Mikkelsen (NOR), 2021 WRC2 Champion
Q:
Will you be having drinks with your old team-mate to celebrate tonight?
TN:
Congratulations to him for his WRC2 Championship. I probably have no choice but to say yes! He was the first to congratulate we when we came back. We find a good place, for sure.
 
FIA WRC2 and WRC3 CHAMPIONSHIPS
Present:
Eric Camilli (FRA) – FIA WRC2 winning driver
Emil Lindholm (FIN) – FIA WRC3 winning driver
Andreas Mikkelsen (NOR) – 2021 WRC2 driver champion
Q:
Eric, you take another win in WRC2 in Spain. It has been a successful event for you. You showed a brilliant pace out there. How are you feeling?
 
EC:
I am feeling very well I want to say. I am happy about our performance this weekend. It was a good run. We did not expect to win, for sure. We came here to win but did not expect to be from the shakedown to the end on this pace. The car worked very well and the team did a strong job. We did it and we are very happy.
Q:
Great stages out there and the first all-tarmac event since 2009. What are your thoughts on the tarmac format?
EC:
I like it. I am from France and we like tarmac. I prefer gravel but I was born on tarmac but I was very happy to show this performance on tarmac. It is very demanding in terms of chassis set-up and driving style and so on. I was happy to do a proper one in the dry conditions and do this performance. For sure, the car helped me a lot in this case. It's a good thing to be back on tarmac.
Q:
You had a good advantage going into this morning. What were your thoughts today?
EC:
On the afternoon yesterday we went with two spares and some softer springs in case of rain. But it didn't come. We lost a bit of time. Today the target was to push on the first two stages especially in the dark. I like it when it is dark. We did it well. Then the gap was a bit more and then the rain comes. So, for sure, nine seconds was not much and I pushed hard on the last stage.
Q:
What about next year?
EC:
I should be in a full programme in WRC2. It's what I want and what I worked for. I don't want to say it's okay but it is on a good way.
Q:
Emil, a win in Finland and a win here again. It was a really strong performance on tarmac this weekend?
EL:
It was a good weekend. Overall we had some expectations coming here but we knew the opposition would be strong. Some of them were still aiming for championship points. We knew it would not be easy. But I love the roads here in Spain. The smooth tarmac somehow reminds me of the old days in circuit racing. I feel quite comfortable with that and it was a pleasure to drive all weekend.
Q:
Do you feel that circuit racing experience gave you an advantage?
EL:
I think this is the rally where you have the advantage of racing experience. You have these wide points when you can use the whole road and take the line. This year we had a lot of cuts and more than two years ago when I was here for the first time. That's a whole different game. You have to take care of the tyres with the gravel on the road.  
Q:
How difficult was it when you catch some of those cuts?
 
EL:
It's especially a problem when you have a narrow clean line in the dirt that has come out of the cuts. You cannot afford to bounce and need to keep the car in the line. It took me a lot of time to find where to put the car and how to go into the cut. There's lots to learn as well and that's one of the areas where I need to continue to look.
Q:
Any issues out there for you at all this weekend?
EL:
Not really, no. We had some heavy impacts in the cuts and bent some rims. Luckily we survived all these scares. It's good to have weekends like that now and then.
Q:
Andreas, it must seem a little bit odd to claim the WRC2 title on an event where you weren't even competing?
AM:
It has been a super weird weekend to be honest to be crowned champion sitting in your normal clothes is weird and something new for me.  Anyway, it's a good feeling – WRC2 Champion was the goal we set before the season. Obviously the main goal is to get back in the WRC and, for sure, this is a stepping-stone to be back to that. It feels good to reach our goals like that but still you want a little bit more. We are also doing another championship and hopefully we can seal that next weekend in Hungary for the ERC. It has been a good second half of the season. 
Q:
It has been an interesting year for you doing two championships. Lots learned we can imagine with everyday a school day no matter how experienced you are?
AM:
That's true. Obviously spending more and more time in the Škoda long time and getting to know that car again. It's a long time since I drove it in 2017 and, before that, 2011 and 2012. It has been really nice but very busy. I am not sure if I want to do two championships again. Some rallies you go directly from one rally to another. I really like to prefer events before I get there with videos and everything. Some rallies this year I was not able to do that. Next year to have a sole championship to focus on would be preferred. I am happy with the season and let's see what's next.
Q:
If you were to pick out a highlight of the season in WRC2, what would it be?
AM:
It would be Rally Monte-Carlo to begin with. We started the year with maximum points possible and winning the Power Stage even with a spin and reversing. That was a cool way to start. We had some challenging moments with Sardinia, where we had a crash, and in Croatia, a mistake, and Portugal, which I missed because of Covid. But the second part has been strong with consistent good results – a win in Estonia and Greece and we go to Monza with no real pressure for points. We can go there and drive as fast as we can. You drive in a completely different way. If you are going for a championship, you go through a corner and you only think about the danger. Now, when you don't think about the points, you can think about gaining an extra tenth. It is two completely different ways of driving. I am looking forward to getting there to push and drive in a proper flat out way and see what we can do.
Q:
What about next year?
AM:
Obviously we are working hard on next year. My big aim is to be back in WRC. That is the goal but it is not easy. There are not a lot of seats available and not a lot of manufacturers. I was really hoping that the new hybrid would attract some new manufacturers. So far it is not seeming to work. We will have to do our best and make sure to be first in line when an opportunity arises. If we win WRC2 and the ERC, there is not a lot more we can do.
FIA JUNIOR WRC CHAMPIONSHIP
Present:
Sami Pajari (FIN) – event winner and 2021 FIA Junior WRC driver champion
Markko Salminen (FIN) – event winner and 2021 FIA Junior WRC co-driver champion
Q:
Sami, what a year you have had and now you are Junior World Champion. What are your thoughts?
SP:
At the moment it feels still unbelievable. I can't really say how it feels. It is so big a thing for me. But not only for me it is a huge achievement itself to be World Champion and the prize we have here is something on the next level. It is so nice and so exciting and I am so happy. I have so many different emotions.
Q:
Your reaction at the end of the final stage was terrific. It must have been a release of emotion for you?
SP:
Of course we had a long break this year before the last round and we had a lot time to think. I was going through every single scenario that can happen. Like if I didn't win, I was somehow thinking maybe I won't be sad. But when it really comes together and you realise you are making it and you are the World Champion, it is something unbelievable.
Q:
It was a dramatic weekend out there. Martins Sesks and Jon Armstong had problems, but you kept it clean. Did you start to get nervous?
SP:
To be honest, yes. It was not so easy to have the control in the head what to do and what to try. The first stage we were losing a bit so we needed to improve our own pace. The last few stages of the first day we were pushing like crazy. We had so high pace we would not survive. That is what happened. This time it was Jon who made two mistakes. Anyway the result was the same and Martins also made a mistake. It was looking quite good for me for a while and then I also had one puncture, so many things, and the rain on the last stage didn't make it any easier…
Q:
Sami, you are the youngest ever Junior World Champion and the first Finnish driver. What does that feel like?
SP:
Of course it means a lot and it's nice to have one Finnish champion this year. For me, it's a big thing. So many people supporting me and all the Finnish rally fans interested in rallying. It means a lot to them to see Finns doing well. That is a nice thing.
Q:
Markko, congratulations on the result. What are your emotions?
MS:
Of course the weekend was quite exciting. So many things happened. We made it quite well. I kept Sami focused all the time and really happy how he was performing.
Q:
What were your feelings at the start of the final stage when you saw it was raining?
MS:
Actually it was not too bad. The stages we were watching on WRC Live and we got information that is was drying up. It was not so big dramas like Friday when we were pushing. The last stage was quite easy. Maybe a little celebration tonight but we go to Hungary tomorrow for the next round of ERC.