The June 1 date in which an Aaron Rodgers trade becomes a less costly transaction for the Packers looms, and shortly after a report indicated the team is not budging on its Green Bay-or-nothing Rodgers stance, the reigning MVP is not backing down, either.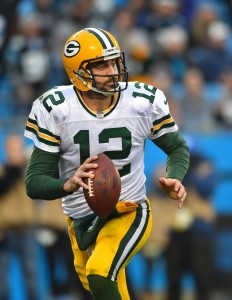 Rodgers is very likely to push his Wisconsin exit strategy into the late summer, with Jason La Canfora of CBS Sports noting some close to the future Hall of Famer insist nothing has changed for him; Rodgers remains adamant he will not return to the Packers. This stalemate has shown no signs of ending, but the Packers may not believe Rodgers is 100% committed to his current quest.
While a Carson Palmer-style pseudo-retirement has entered the equation at points during this saga, the Packers may not be keen on letting this reach the stage the Bengals did 10 years ago. The Packers would trade Rodgers if they truly believed he was dead-set against playing for them again, Matt Schneidman of The Athletic notes (subscription required). Recouping the nearly $30MM from a Rodgers retirement would not satisfy the team compared to the draft/player haul a trade would net.
As of Memorial Day, GM Brian Gutekunst is not there. His no-trade stance remains, Schneidman adds. This certainly points to the Packers believing they can salvage this situation, but the team preferring a monster trade haul to forcing Rodgers into a retirement/hiatus is noteworthy.
With Rodgers having rebounded from multiple unremarkable seasons to win his third MVP, the 37-year-old passer has considerable trade value at this point. A realistic trade package is believed to require multiple first-round picks and one or multiple established starters. With or without a quarterback coming back in a trade, the Packers can be expected to land a haul for Rodgers — if they decide to entertain offers.
The team most closely connected to a Rodgers deal, the Broncos have yet to discuss the 16-year veteran with the Packers since a short conversation on the draft's opening night. Like the 49ers, the Broncos reached out to the Packers the day this news broke, but Mike Klis of 9News notes no calls have transpired between teams ahead of the June 1 date. Denver's current plan is a Drew Lock–Teddy Bridgewater competition, which easily makes for the AFC West's least inspiring quarterback situation. That said, the Broncos have Rodgers on their radar. His following Peyton Manning's late-career path should continue to be a talking point as long as this impasse lasts.
Photo courtesy of USA Today Sports Images.